(Mathhombre) Miscellanea
Apr 17
Tinky Teacher.
Ben Orlin writes and draws at one of my favorite blogs, Math with Bad Drawings. Insightful, good math and funny.
[video]
Get you best paper, cut a circle and fold it, fold it so that the circumference falls on a fixed point inside. Repeat, using random folds. Now see the creases. This is how you paper-fold an ellipse.
I've got the folding circle part in GGB, but hard to capture the idea of marking the folds. Any ideas?
[video]
Apr 15
Ladder of Learning.
Had to make an image for this great quote on learning. Saw it at Made by Jones. I think so much bad education policy comes from mandating that everyone has the ladder that you like best.
Overheard on the Independent Lens documentary, The Trials of Muhammad Ali.
Infinite Gold.
The Futility Closet shares a classic Martin Gardner puzzle.

I think this is a little more subtle than the more common triangle paradox. What do you think?
Here's the sketch at GeoGebraTube. And another gif if you're greedy or trying to figure it out.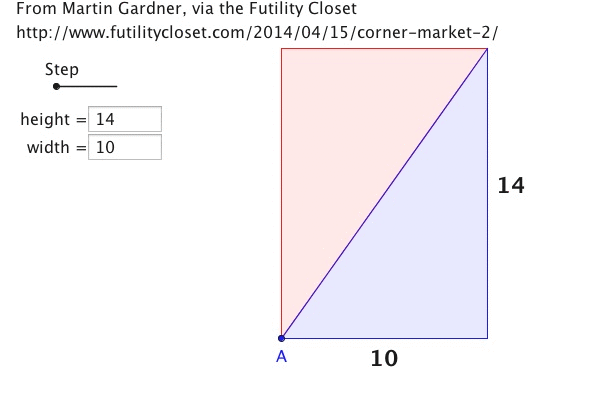 Apr 14
[video]
i-never-mocked-you-a-cannery-rye asked: I'm so confused by Aristotles wheel! How does it work?!
It's a map or a function from the small wheel to the segment, but it doesn't preserve distances. In real life there would be a kind of continuous slippage of the wheel or the string (if a string is what you're imagining). Paradoxes like this are how mathematicians - one named Cantor in particular - figured out some weird things about infinity.
Square roots 1 through 10 constructed with a compass and straightedge
Nice all in one picture. Could we dynamicize…?
(via mathmajik)